Last week, a group called, Let's Go San Diego submitted signatures with hopes of getting a half-cent sales tax on the November 2022 ballot. This would help fund SANDAG's $160 billion transit plan. 
With inflation at record highs, this is not the time for more taxes. Most San Diegans are looking at three half-cent sales taxes. Here are all the ways SANDAG plans to pay for their plan, with your money.
½ cent sales tax – 2022 ballot, no expiration

½ cent sales tax – 2028 ballot, no expiration

An MTS ½ cent sales tax (70% of the County)

Fee per mile driven 4.3 cents –

2 cents regional

2.3 cents State

Creating a new fee for ride-hailing (UBER or LYFT) $1.25 solo ride; $.65 carpool

819 miles of new managed lanes (toll lanes)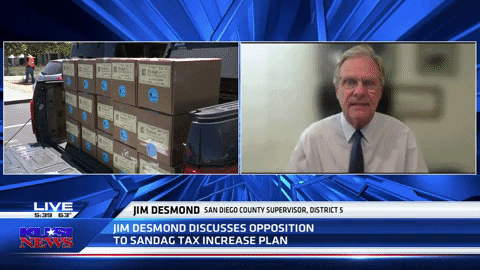 Also, SANDAG plans on charging people for EVERY mile they drive in San Diego County. If you don't know about their per-mileage tax plan, last year, SANDAG's Board of Directors voted to approve a $160 billion transportation plan, making it the most expensive transportation plan ever. One of the ways they plan to fund it is by charging San Diegans for every mile they drive. 
In 2004, SANDAG proposed a new sales tax to voters that would generate $14 billion dollars, which promised to relieve traffic congestion, improve safety, and match state/federal funds to improve the following freeways: I-5, I-8, I-15, SR 52, SR 54, SR 56, SR 67, SR 76, SR 78, SR 94, SR 125, I-805. Voters passed this under the impression their commute home would be made faster and easier. This has not happened. Instead, SANDAG staff front-loaded public transit projects while leaving 14 of the highway projects unfunded.
I believe we need transit options in San Diego County and believe it can work Downtown, but not at the expense of North County residents who rely on their cars for the majority of their travels.
I will keep you updated on SANDAG's plan and if the proposed tax qualifies for the November 2022 ballot. As I said earlier, this is not the time to hurt San Diegans by taxing them out of their car.